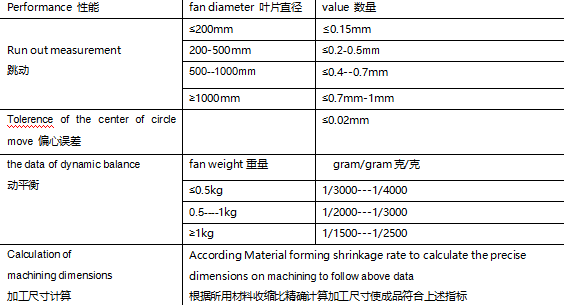 QC standard
Tianyi Mould has very professional impelle and blade moulding making team, all of them keep the strict QC responsibility, which are combined as different departments.
Tianyi Mould has a professional team by sales engineer being communicator for fan mould enquiry and commercial communication. This makes all your purchase easy and direct discussion of technical points. This avoids the translator job which delay your time and communicate of mould making and technical discussion.
These engineers are specialized in various project, such as Air conditioning mould production, ventilation equipment mould production, precision instrument fan mould, automobile and other fields,they can offer internal breakdown list for each section quotation and specification data for detailed projects.
Tianyi Mould design department has 3D & 2D design department for mold and plastic parts develop. We provide prototype, R&D design service, Mold flow analysis and design feasibility analysis. Due to strong mould design team, we make in short time professional and correct mould successfully.
Machining department has more than 20 staffs, due to Tianyi Mould huge mould making capacity that annually deliver 300+ sets of fan moulds.
QC department controlled all the mould making components, such like purchased mold components dimension, machining mold components dimensions, molded plastic samples dimensions. They strictly control any quality data as same as Tianyi company quality standard data,Ensure any error parts can be flow into the next step.
Project managing department who execute tooling standard, following project, report mould making status to sales engineer department, is one of the very important mould making management department.
Tianyi Mould still has more than 10 mould assembling teams, more than 30 staffs. Following strictly the mould design, good quality mould machining finishing, we carefully assembling all the mould components correctly. No hand work allowed in the process.